Migrante-Europe condemns in the strongest terms the declaration of President Rodrigo Duterte ordering members of the police and military forces to shoot and kill people protesting the non-delivery of food aid during enhanced community quarantine following the arrest and detention of several people from Barangay Bagong Pag-asa in Quezon City on 1 April 2020.
Residents of Bagong Pag-asa went to the office of a local government unit only to ask food aid as promised by the government during the community lockdown amidst the COVID-19 pandemic. But instead of being compassionate in addressing the needs of the people who suffering hunger, the brutal arm of the state was unleashed. The president's order is also being carried out in the Cordillera region as its police director directed the police to shoot "communist organizers".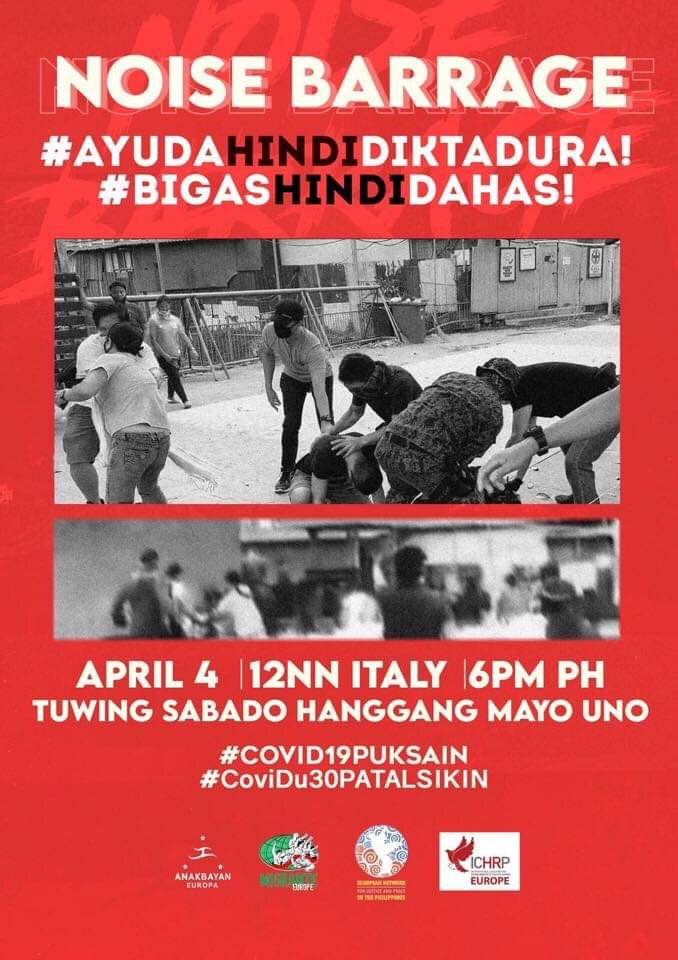 The continuing failure of the fascist Duterte regime to help the people adversely affected by the community quarantine, has caused several families to seek food outside their homes, to let the night pass without food, unsure what will be in on their table the next day.
The government's callousness to the suffering and hunger of the people has no place in the fight against the Covid19 pandemic. The government should provide effective steps for the immediate and efficient delivery of services to the people that havebeen deprived to them for several weeks already.
We call on the members and officers of the police and the military forces to have a deeper understanding on the current situation of the poorest of our people.
Hungry people are, justifiably asking for food not bullets. They deserve delivery of the promised food aid not shoot to kill order.
We call on compatriots around the world to join Migrante-Europe in a weekly simultaneous noise barrage starting Saturday, 4 April 2020, 6PM Philippine time, to call on the Philippine government to focus on the immediate and efficient delivery of social services to the people instead of imposing more draconian measures and scapegoating peoples' organizations and compassionate individuals and entities for its own scandalous failure to act as a government for the people.#
#SerbisyongMedikalHindiAksyongMilitar
#TulongHindiKulong
#PagkalingaHindiBanta
Marlon Lacsamana
Secretary General