Migrante-Europe strongly condemns the attacks of the Philippine government security forces aided by a judicial court against the Tumandok in Tapaz, Capiz and Calinog, Iloilo in the island of Panay that resulted to summarily executions of 9 persons and the arrest of 17 others on December 30, 2020.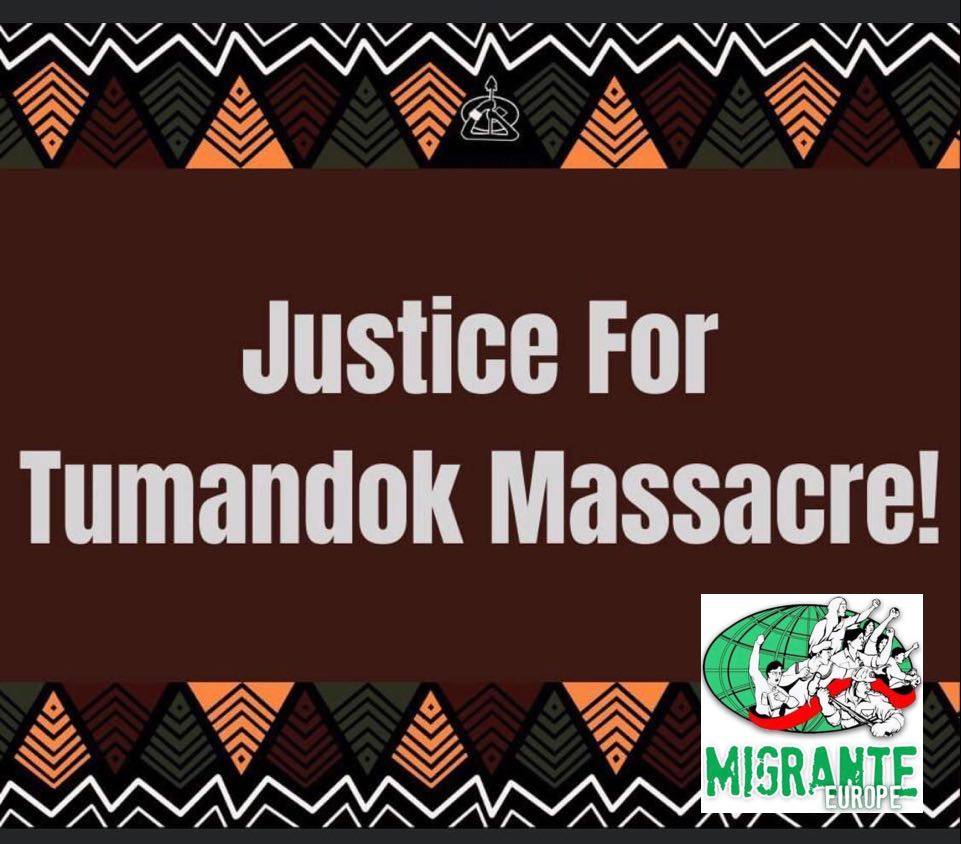 Every day, the Tumandok and many indigenous peoples leaders and organizations in the Philippines feel that they are at the mercy of the government and its armed forces. The Tumandok and indigenous peoples organizations are constantly being monitored by the government security forces and local government units especially on how they stand on issues that caused the loss of their sources of livelihood and the displacement of their communities from their ancestral domain due to development aggression such mining and extractive industries, construction of dams, land use conversion of their ancestral lands into multi-national agri-business corporations, etc.
Filipino migrants in Europe and around the world can easily relate and fully understand the current situation of Tumandok and other indigenous peoples of being uprooted from their ancestral lands because many of us Filipino migrants were forced to leave our family, our community, our beloved country in our hope and dreams of providing bright future to our love ones. Like the Tumandok and other indigenous peoples communities whose mineral-rich ancestral lands are target for exploitation and plunder by the Philippine-government backed greedy corporations, Filipino migrants are milking cows of the government thru state exactions of the corrupt-ridden and tyrant Duterte regime.
Today, the number of Filipino migrants that had lost hope to the anti-people president are increasing and growing day by day. The political promise made by Duterte almost 5 years ago for creation of jobs in the home country and to address forced migration and put basic changes to the life situation of Indigenous peoples and Filipino migrants and the Filipino people in general never came into reality. The changes that most of our kababayans are confronted with everyday especially in the home country are the worsening human rights violations, unbridled corruption, plunder of economy and destruction of environment, selective justice system, total submission of the Philippine government to the wishes of its US and Chinese masters.
Mga kababayan, we can no longer find justice and peace as long as the Duterte government is in Malacanang. Hence, we call on the Filipino people back home and in our host countries here in Europe to unite. We call on our friends and allies and all justice and peace-loving European individuals and organizations for solidarity support and be with us as we confront the tyrant Duterte until victory!
Justice for Tumandok Massacre Victims!
Itigil ang mga atake sa Pambansang Minorya!
Itigil ang Pamamaslang!
Defend the Ancestral lands and the right to self-determination of Indigenous Peoples!
Makibaka! Huwag Matakot!
Fr Herbert Fadriquela
Chair
Migrante-Europe
January 26, 2021