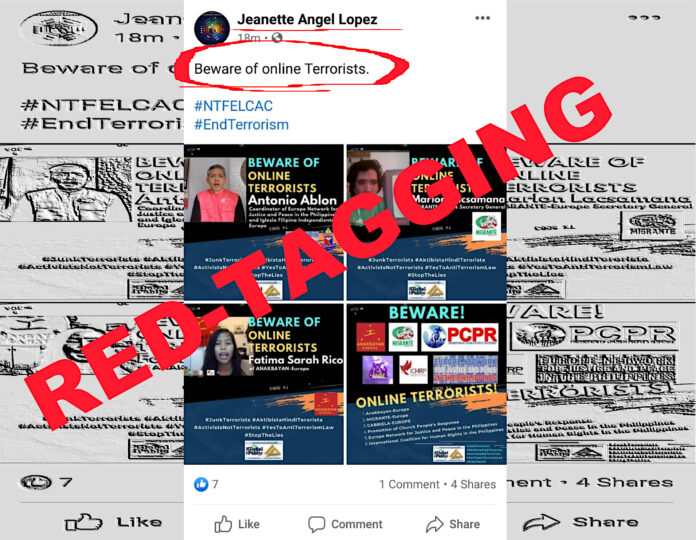 We condemn the red-tagging of our activists: Bishop Antonio Ablon, IFI Chaplain in Europe, Marlon Lacsamana, Migrante – Europe (Secretary General), and Fatima Sarah Rico, Anakbayan-Europa.
Our fellow activists have dedicated their lives in the service of Filipino migrant communities in Europe, as well as bringing Philippine concerns in Europe related to state-sanctioned killings and human rights violations in their home country.
The deliberate red-tagging implies harassment on our activists while dedicating their lives in the nationalist struggle in their host country.
The irony of the malicious red-tagging is, Rodrigo Duterte's state-forces are bent on maximizing the Filipino taxpayers money in pursuit of imploring character and violent assassinations on dedicated activists and organizations, both in the Philippines and abroad. On top of this, the recent proposed budget worth Php 16.44 billion for National Task Force to End Local Communist Armed Conflict (NTF-ELCAC) to be used in pseudo counter-insurgency program, yet tainted with violence and corruption.
Our activists and people's organizations in Europe remain resolute to pursue a consistent condemnation on the US-Duterte regime and the black propaganda machinery of the NTF-ELCAC.
AnakBayan Europa
Europe Network for Justice & Peace in the Philippines
GABRIELA Europe
Migrante Europe
Promotion of Church Peoples' Response (PCPR) Europe